History
Investigations > Burra > Burra Mines
BURRA MINES

MORPHETT ENGINEHOUSE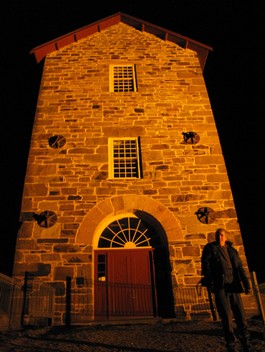 A BRIEF HISTORY


In 1845, a shepherd named Thomas Pickett, discovered outcrops of brightly coloured copper around his land. It wasn't long before the South Australian Mining Association took ownership of the property that very same year. By 1850 the Burra Burra mine became the largest mine in Australia, producing 5% of the world's copper up until 1860.

Underground mining finally stopped in 1867 and instead open-cut mining took over in 1870. Eventually in 1877, as this was found to be a non-profitable method and the mine closed operations. In modern times mining commenced again and between 1971 and 1981 open-cut mining took place to a depth of 100 metres. But again the mine shut down and has since become a tourist attraction. The open-cut mine is now largely filled with water and it contains a lake that divers from all over the country come to practice due to it's depth.

The Morphett Enginehouse was built in 1858 and housed an 80 inch diameter Cornish beam pumping engine. It operated from 1858 right through to the mines final closure in 1877. It was in 1920 that the machinery was removed and sold as scrap. Five years later the Enginehouse itself was destroyed by fire when some young boys were trying to smoke out pigeons. The new building was reconstructed on the same site in 1986 and is now a museum.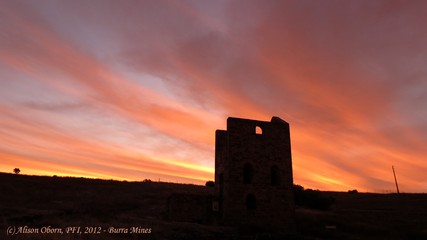 GHOSTS


We became involved with the Morphett Enginehouse when we first came to Burra back in 2009. Although at the time, we were shown around the building, we never actually investigated until Jan 2012. In the early round of investigations we needed to concentrate on other sites, so this one took a back seat. Besides, we really hadn't heard many ghostly tales coming from this building. It should be remembered though that it is not often that it is visited at night and only at limited times during the day. We chose to finally investigate this site as we were curious to see if, due to a fatal accident in 1876, a gentleman by the name of John Martin was still present.

On Sunday Oct 6, 1876 a miner by the name of John Martin had been working down the Morphett Engine Shaft. A fellow workmate had been working alongside John at the 22nd fathom (132ft). John had been standing on a plank that made up a floor over part of the shaft when he slipped and fell straight down. He was stopped at the 30th fathom but it was still a 24ft drop and far enough to cause serious head injuries which killed him.

For this reason we though that it might be a good candidate for investigating.