Hotel History
Investigations > Tea Tree Gully
THE TEA TREE GULLY HOTEL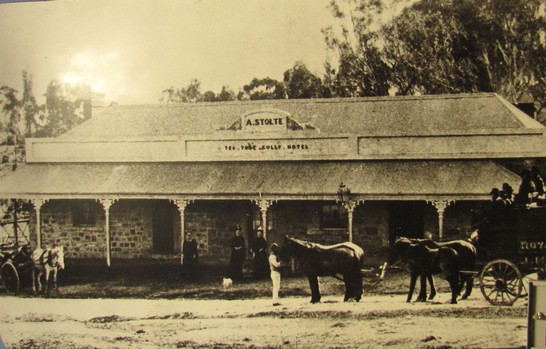 Photo courtesy the Tea Tree Gully Hotel

A BRIEF HISTORY


Prior to 1850, the Tea Tree Gully area was originally thought of as just that, a gully which led through the the Chain of Ponds and eventually Gumeracha. The name was placed on it due to the fact that it was an area thick with native Tea Trees that were growing in the swampy areas. White settlement sadly soon saw the demise of these especially as they discovered the wood was fairly resistant to water. These days there are very few wild trees left in the area. At first the area consisted of squatters which normally were shepherds but by 1850 a new township began at the foot of the Gully, then known officially as Steventon after an Adelaide Miller, John Stevens aqcuired land around there and subdivided. For many years there was confusion on whether to use the name Steventon or Tea Tree Gully. However after 1900 the name Steventon was dropped and it's adopted name of Tea Tree Gully became official.

The Tea Tree Gully Hotel (or Inn as it was known in the 1800s) was opened in 1854 along with the Highercombe Hotel. At this point the population of the area was 1440 people. By 2004 the population had grown, just 150 years later, the population stood at over 100,000 and the area of Tea Tree Gully encompassed 50 square miles. The area was also known as Steventon until 1900 before it was finally changed to Tea Tree Gully once and for all.


THE GHOST STORIES


Rumours were that a lady had hanged herself in the stairwell leading down to the bottom floor, which was once the living quarters. When we were approached to investigate the Hotel for a night, we did a quick history check which brought up at least two deaths associated with the Hotel. One of these was Mr Joseph Morris, the landlord of the Tea Tree Gully Hotel in 1899. Joseph had been driving himself and several women near Houghton when one of the horses became unmanageable. Sadly Joseph was thrown "with fearful force" and died in the accident.

The second death involved an infant that was thought to have been drowned in the Hotel by the infant's mother. She was not convicted as there was a question mark over her guilt.

To date though, we have not found any record of anybody having hanged themselves in the Hotel.