The township of Burra is a historic copper mining town which was founded in 1845. This town was incredibly important to South Australia and along with Kapunda, helped save the colony from bankruptcy in the 1840's. Some of this bankruptcy was incidentally due to the building of the expensive Adelaide Gaol and Parliament House back in Adelaide.

Burra consisted of a large Cornish, Welsh and English population, many of who were living in dug-outs along the river embankments. This was mainly due to lack of housing and materials to build what would be needed for the influx of up to 5,000 people. The dug-outs stretched for 3kms along the Burra Burra Creek and quickly became known as Creek Street. This method of living proved to be a problem, especially when disease would hit and flooding occurred, and eventually the dug-outs were abandoned.

Separate villages sprung up with the Cornish living in Redruth, the English in Hampton, the Scots in Aberdeen and the Welsh in Llwchwr all of which had their own facilities, shops etc.

Redruth is now more famous for its Gaol, the first Gaol to be built outside of Adelaide. Originally it was built for lawbreakers as transporting them to Adelaide was too costly and time consuming but eventually it was shut down and became a girls reformatory instead. When St Johns Reformatory closed down in Kapunda, the girls were moved up to Redruth. The small township of Hampton is now nothing more then old ruins having finally been abandoned back in the 1960s.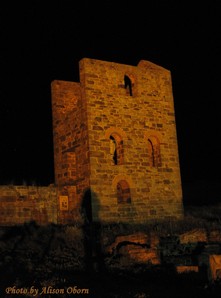 BACKGROUND

After hearing ghost stories and rumours that were coming out of Redruth Gaol and other places in Burra, the National Trust finally gave us permission to enter these premises at night with one of their representatives, Neil who joined us.

Our first investigation took place on 11th December 2009. The aim of this investigation was to cover several historical sites around Burra such as Redruth, Hampton Village, The Unicorn Brewery and the Dug-outs. It was decided to use this trip as more of a scouting trip and spend a limited amount of time at each location so that we could assess which would be better for future investigations. Redruth Gaol was to be our home base for the night.

Many more investigations were to follow over the next 2 years. Our investigations still continue at these historical sites and we will update as we get new findings. We discuss some of the results at these links below. Please press on photo.